The Real Source of Life
His soft fur was white. His eyes, crimson red. And his ears were, well . . . floppy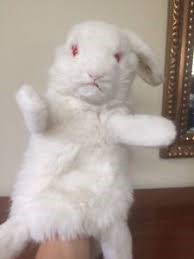 . Hence the name.

Floppy joined our family one September afternoon. He was a gift to me. A birthday gift. Dare I admit that Floppy was a . . . puppet. And it was my . . . 35th birthday?
I must say, though, that this was no ordinary puppet. No siree. He was the Cadillac of Rabbit Puppets. For whatever that's worth. Our search through three states to find a white Steiff rabbit puppet paid off, and he soon became part of our family fun.
What made him so realistic-looking, besides his top-of-the-line fur body, his glass eyes, and his great whiskers (…am I losing some of you here?) was the fact that you could work his head and arms with one hand, and his feet with the other. So every inch of Floppy moved.
This came in particularly handy since Floppy's first assignment was as "Special Assistant to the Director" in my 6-and 7-year-old choir class at church. And he earned his title:
His arms, sporting brass finger cymbals, taught the children the steady beat.
His right leg was "programmed" to thump out the accented beat. And, of course, his left foot directed the melody.
Floppy seemed to teach more than I did. At least they paid better attention when he was assisting with the lessons. And not just music theory. We learned about manners, patience, sharing, listening, and other "niceties of life." He told them all about God's love.
The art of ventriloquism was not in my skill set, so Floppy had to whisper in my ear and I'd relay his message. Okay, so it was the chicken way out. But my lips (...ny lits...!) would be a dead giveaway. Whatever works, I say.
Floppy's "shyness" required that the room be absolutely quiet before he would emerge, hyperventilating, from his bag. They shushed each other and watched in awe as his little white ears appeared and the rest slowly followed.
Floppy had a fan club of sorts, bringing a sense of delight wherever he went. Sometimes, he was the one invited places, and we got to come along. Everyone knew he was worked with a hand or two inside but it didn't seem to spoil the fun.
Our adventures with Floppy were many. Two are especially memorable.
First, at a Bible conference in Switzerland: Dr. Charles Ryrie got up to speak after Floppy had done his thing, which included a lively dance, a singalong with finger cymbals, and a few improvised corny jokes with audience participation. "Now that's a tough act to follow," Dr. Ryrie began as he reached the podium. "And I was watching you adults, as enamored with the rabbit as the kids." Then, looking at Floppy, he said, "I hope to have a photo op with you later, Sir." We never did.
Second, in Rwanda, Africa, on our final music night: Floppy's role was as a one-man (one-hare) percussion section. The children gathered around, grinning and bouncing to the rhythm while Floppy enthusiastically accompanied the band on a goat-skin drum, using a banana from a nearby tree for a drumstick.
Suddenly there was a --splattt against my face... then another--splotttt...and another! Oh no. Oh yes. Banana goo, all over the goat-skin drum. Quickly, I bowed out, drum under one arm, drummer under the other, and began a desperate search for goat shampoo. That stuff''s never around when you need it, ever notice?
Well, it's been several years since Floppy went into retirement, and I happened upon him the other day. He was but a lifeless bundle of fur-like fabric, useless, obsolete. It was hard to imagine this was the same critter that tromped through life with us over the years.
Then I put my hands inside . . . and he "came to life."
It reminded me of the visual Corrie ten Boom gives of the glove and the hand. Neither a glove nor a puppet has the ability in and of itself, to do anything. Only as the hand enters into it and begins moving and acting is there any "life" or function.
That is as the Holy Spirit works in us. We are the glove, He is the hand.
If you have been a "glove" trying to do what you're not able to do on your own, why not invite the "hand" to come in and reside, and show you all the plans and adventures He has for you!
"God has given us His Spirit as proof that we live in Him and He in us." –I John 4:13