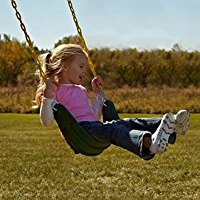 The Lord your God . . . will take delight in you with gladness. With His love, He will calm all your fears. -Zephaniah 3:17
I squealed with eager anticipation as Daddy diligently pounded, clamped and bolted, putting finishing touches on our long-awaited swing set.
"Honey, don't go near it until I can anchor it into the ground, okay?"
My innocent green eyes said, "Okay." My six-year-old mind decided otherwise. I could resist anything but temptation, especially when it involved my favorite sport, Swinging.
No sooner had Daddy gone into the garage than I hopped on and within seconds was soaring so high my toes could almost touch the leafy tree branch. Then, as if in slow motion, the large metal frame flipped into the air, sending the swing – and me – crashing to the ground.
I remember lying there, scared, the wind knocked out of me. I remember Daddy hovering over me, tenderly caring for me. I remember thinking how I deserved punishment for disobeying. I remember receiving a loving word from him instead, reassuring me, comforting me.
And that's about all I remember, about Daddy. Soon he would be gone from my life forever. I choke back tears as I recall this most vivid memory of my father – tears of sadness and gladness:
Sadness that I never really got to know him, and he never really got to know his little girl.
Gladness, because this scene is such a beautiful picture of my Heavenly Father, who had stepped in as "Father to the fatherless" [Psalm 68:5] for my sisters and me.
I'm so thankful that the response of my daddy reflected that of my Lord. Of all the memories I would want to keep hold of, this would be the one.
I wonder how many times over the years I have disregarded the wise warnings of my Heavenly Father, yet found Him there for me. Not scolding me. Not shaming me. Not leaving me alone to suffer the consequences of my disobedience. But hovering over me, tenderly caring for me, teaching me life's harsh lessons with love's gentle touch.
Undeserving as we are, our Heavenly Father hovers over us, rejoicing, loving us with an everlasting love.
-Adapted from Love is a Verb Devotional by Gary Chapman, Feb. 7, "A Father's Care" by Sandi Banks